Company of the Year 2023!
26 October 2023
Last week the Energy Industries Council bestowed on Cokebusters the ultimate award of 'Company of the Year 2023'.  This is an immense privilege and recognition of the imagination of our technologists, the tenacity of our operations delivery teams and our support infrastructure.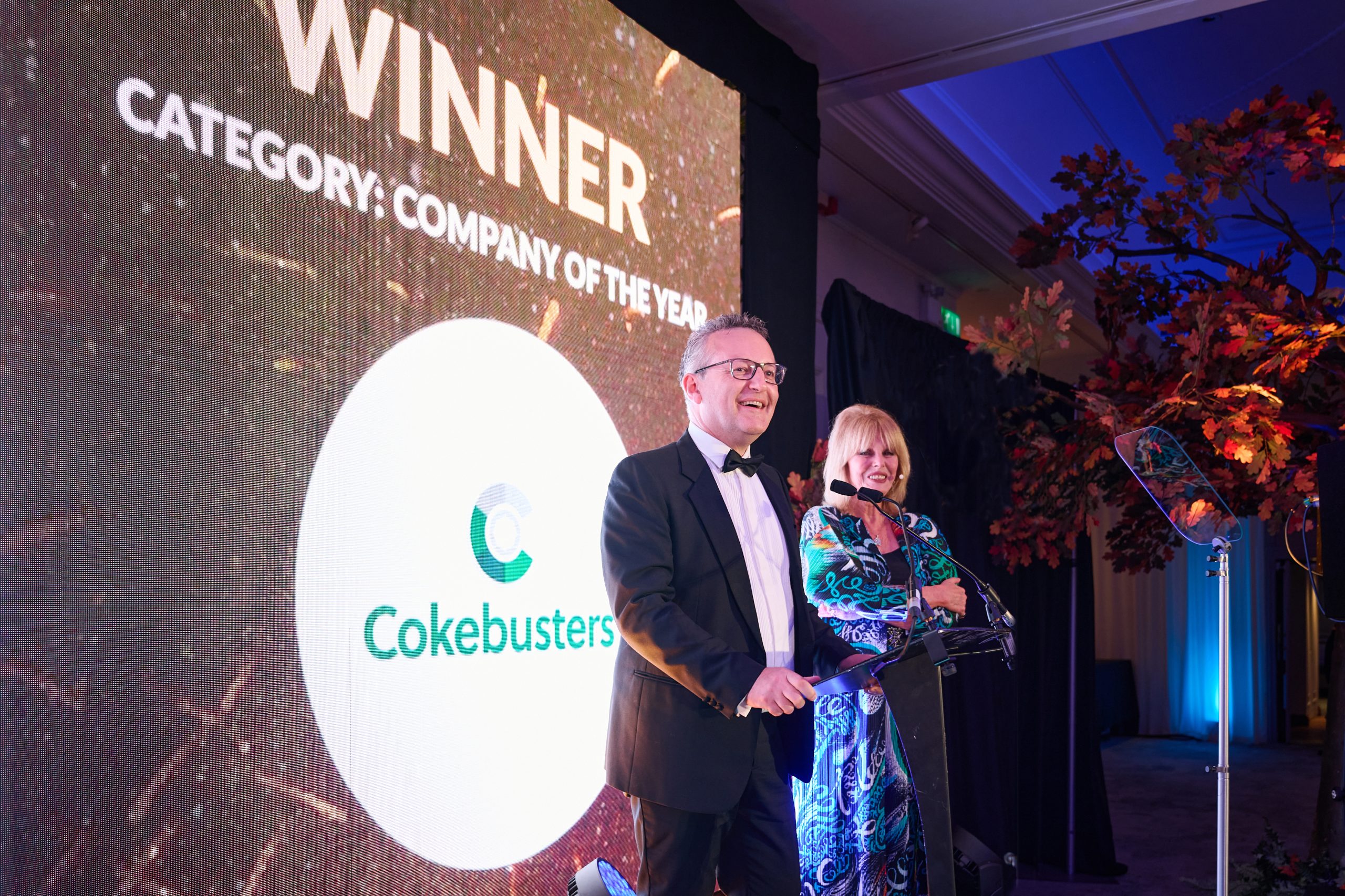 We'd like to take this opportunity to thank all our team members for the part they have played in driving Cokebusters to become the success it is today.  There is still much to do, but naturally this prestigious award has prompted us to reflect on our journey and the effort and contribution made by each and every person in the Cokebusters family which has brought us this far.
Perhaps one of the most fundamental aspects of the business of which we are most proud, is that Cokebusters has not stood still.  Like so many businesses, we were prevented by law from carrying out our work when the pandemic struck and faced an uncertain future with zero income.  We could have stagnated or even thrown in the towel, but instead we confidently invested in our premises and in our technology.  We would not have been able to be so courageous without the support and dedication of key players in our team who continued to have faith in the company during those difficult times.
Having dependably served the fired heater and power generation market for many years and prompted by our clients' needs, we have challenged ourselves at Cokebusters to diversify and thus also provide our trademark combined services solution across broader geographies and into other industrial sectors.
In the post-COVID world we have seen a culmination of innovative and technological success in developing unusual ground breaking methods and tools to help solve the major challenges of cleaning and inspecting 'unpiggable' tubing and pipeline assets.  Today, Cokebusters' range of intelligent pigs not only enable customers to quantify how clean the process is, but they also provide full diametric and wall thickness profiling, thus enabling an essential insight into asset integrity.

Having gratefully accepted the award, our company Managing Director, James Phipps, said: "Cokebusters is an SME, yet we often find ourselves competing alongside giants in the energy industry, and from our small corner of North Wales some may argue we are punching above our weight. We may be small, but in that we have the ability to take bold decisions very quickly. Time and bureaucracy can kill off a good idea. We take our lead from our customers and we have the courage to take necessary risks to feed innovation.  It seems this drive and determination is paying off tonight!"
It was a new opportunity presented in 2021 from Oman operator, Petroleum Development Oman (PDO) which pushed Cokebusters to create a solution for the descaling and inspection of an equivalent 1GW solar steam array. The assignment from PDO opened the door for Cokebusters to enter a brand-new market, a crucial breakthrough that will be essential to the future-proofing of the business as the world embraces energy transition and net zero strategies.
One hurdle for Cokebusters to overcome was that its latest generation intelligent pig, whilst capable of navigating small internal diameters, was in fact still too large for the solar tubing network. Undeterred, we began developing of a prototype intelligent pig that would be capable of inspecting internal diameters as low as 40mm and within 6 months we had a working prototype.
In conjunction with smaller mechanical descaling pigs, a full scale trial was conducted on site in August 2022.  The pigs were able to successfully navigate and clean the complex circuits with a reported 20% enhanced efficiency, all whilst collecting valuable integrity data to produce 3D imaging of the solar steam tubing.  The trial's success is testament to Cokebusters' ability to turn a challenge into a solution; a feat all the more impressive given the firm wholly funded the research and development behind the new Mark VI intelligent pig.
As a consequence of this drive to solve our client's problems, we have now developed what is now believed to be the smallest, untethered, single bodied intelligent pig available worldwide.  In doing so, the company has opened up an entirely new market for ultra small pipe diameters, a move which will support the progressive dependency reduction associated with traditional hydrocarbon energy sources.
James Phipps continued: "This is an exciting time of growth for Cokebusters!  The ability to successfully develop and deliver this service has unlocked a stream of new business opportunities in the increasingly narrow diameter networks associated with alternative energy markets."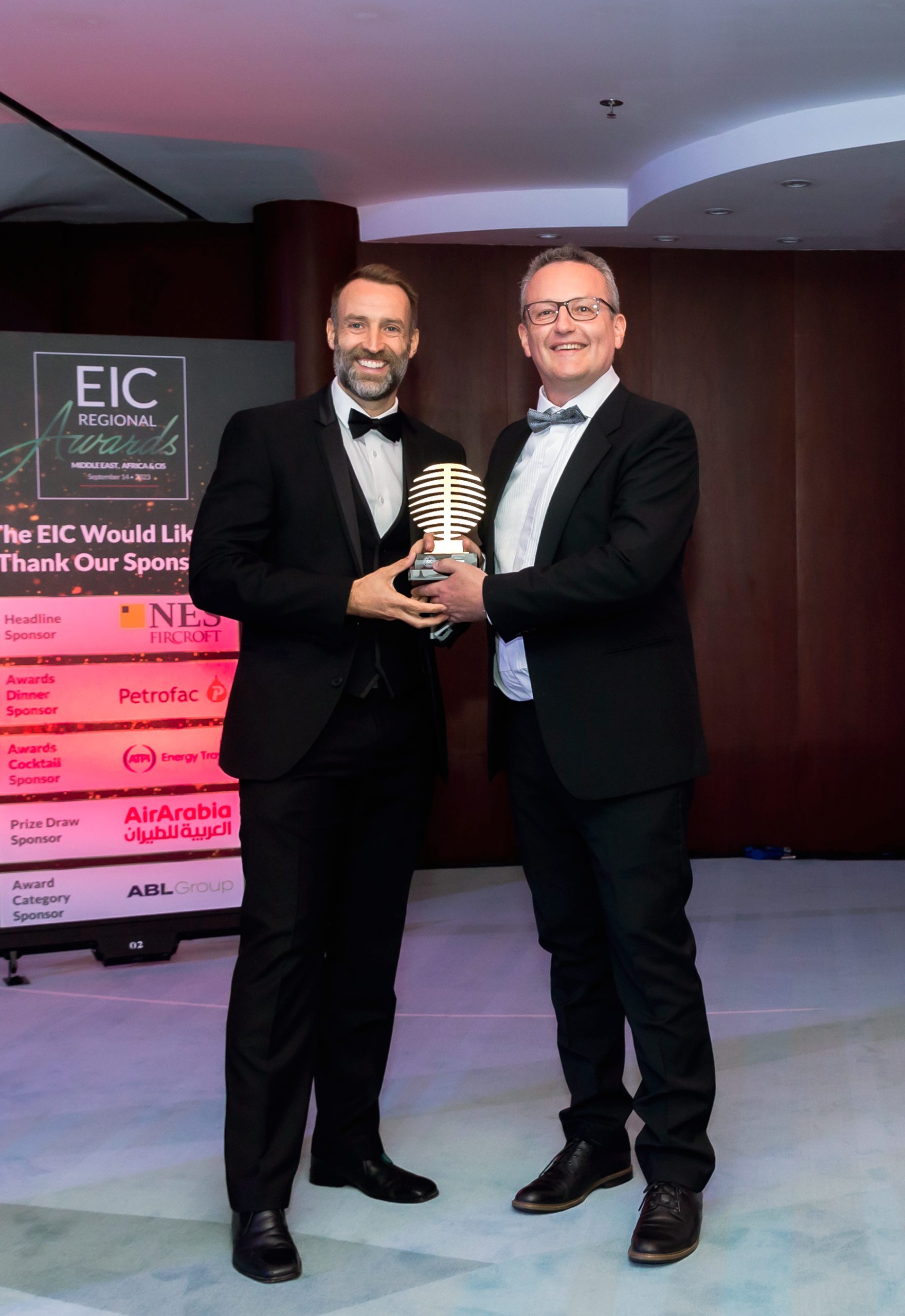 Last month Cokebusters was honoured to be chosen as the 2023 'Survive & Thrive' Regional Winners for 'Innovation' and 'Diversification' at the EIC Middle East Awards. The award was presented by Ryan McPherson, Regional Director of EIC Middle East, Africa and CIS on board the former cruise liner QE2.
Cokebusters has also had the privilege of an invitation to be on the judging panel for the 'Collaboration' and 'Culture' awards.  Immersing into the submissions of some 30 like minded businesses showed what great stories there are from the many companies who operate in the energy sector, often against a backdrop of adversity.
Our industry faces an ongoing challenge in the 21st Century, as we all strive to be better caretakers of this wondrous rock we call home whilst maintaining vital energy supply.  At Cokebusters we remain keen and ready to support our clients through this change and help them to improve efficiencies and process safety as we transition towards cleaner, more sustainable methods of energy production.
We are humbled by the EIC's recognition of our efforts to date and we would like to thank them profusely for their support.