Silver Award for Cokebusters in MOD Employer Recognition Scheme
20 August 2020
We are proud to announce that Cokebusters has won Silver in the Armed Forces Covenant Employer Recognition Scheme. The scheme was launched by the Ministry of Defence to recognise and reward employers who show support to the Armed Forces community, hopefully encouraging others to do the same. This includes employing serving and former members of the Armed Forces community, demonstrating flexibility towards training and mobilisation commitments for Reservists and Cadet Force volunteers.
At Cokebusters we have always been proud to directly employ serving and retired members of Her Majesty's Armed Forces; placing high value on the unique skills and life experience they bring to various roles across the company. Employees with a military background are often accustomed to travel and so enjoy working for an international company with plenty of opportunity for work overseas. However whether they are predominantly based at our premises or regularly travelling abroad, Cokebusters has found those with an Armed Forces background to be engaged and dedicated to their roles with a strong work ethic and focused attitude.
For 11 years leading up to 2019 the company also hosted a veterans' charity.  D-Day Revisited aimed to assist D-Day veterans who wished to return to the French beaches and battlefields where they fought in June 1944 to mark the annual liberation anniversaries. Whilst the charity focused primarily on Normandy and the D-Day Landings, it also gave financial assistance to veterans who served across France, the Netherlands and Italy by distributing LIBOR grants on behalf of Her Majesty's Treasury; a service it continues to offer.
Over the years many Cokebusters employees have volunteered to accompany and assist elderly veterans during the emotional journey back to Normandy and the company has been very pleased to bring different generations of Armed Forces veterans together to share this experience.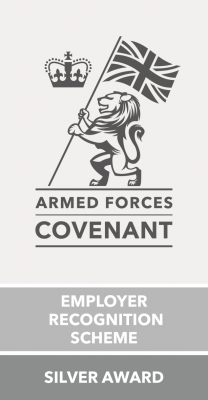 This year 36 employers received the award across the North West of England. Commenting on the announcement of the 2020 Employer Recognition Scheme Silver awards, Johnny Mercer, Minister for Defence People and Veterans said:
"The breadth and diversity of the winners this year shows how business support for the Armed Forces continues to grow no matter the sector, company size or location. I am grateful for the positive attitude and flexible policies these organisations have adapted towards the defence community, which is testament to the fantastic contribution our serving personnel, veterans and their families can make to any organisation.
I am delighted that so many companies are supporting our people and that, through this scheme, we can give them the public recognition they deserve."